Are you someone who loves DIY projects? Do you find yourself constantly looking for new ways to improve your home or make your own furniture? If yes, then you know that having the right tools can make all the difference. In this blog post, we will be sharing with you the top 6 best DIY tools that everyone should have.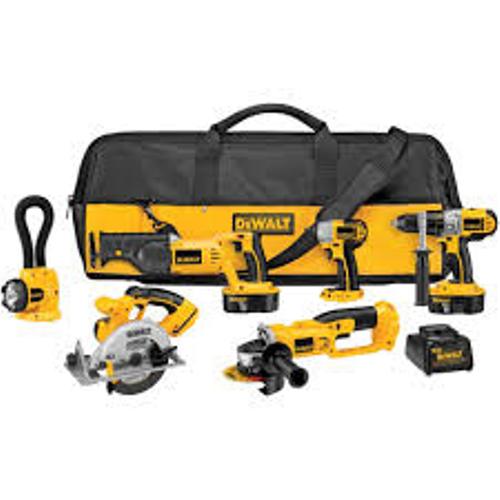 There is a power tool for almost everything out there, and no matter what project you are looking at, someone has designed a tool to solve that problem.
Grinder:
The first tool that everyone needs to own, regardless of the project, is a grinder. Although not traditionally thought of as a power tool, the versatility of a grinder is unmatched. For instance, you can use a flap disc to grind down the edges of baseboards or crown molding to achieve a perfect contour fit. A cut-off wheel can help you cut stone, metal, or even undercut wheels for glass or ceramic. Whatever material you are dealing with, a grinder gives you the ability to do custom cutting and all kinds of scenarios. You can even use it to cut off a piece of rebar sticking out of concrete or to cut around an electrical receptacle while doing tile work. Safety glasses are recommended while using a grinder, and you should follow all safety precautions. Shop around for a grinder.
Custom HTML/CSS/JAVASCRIPT
Drill Driver:
Once you have a cutting tool, you need a drill driver. You can get a regular drill or an impact driver, which is my personal favorite. The impact driver has a quick-release change bits and a magnetic tip, allowing you to change bits and make it a socket wrench, making automotive work quick and easy. With drill bits coming with a little dimple nowadays, you can drill holes in any material or screw anything to the wall. You can get a 20-volt brushless drill driver that never overheats and melts and has quick-release batteries. With this tool, you can do anything except mix concrete. Shop around for a drill drive.
Custom HTML/CSS/JAVASCRIPT
Demolition Sawzall:
Another essential tool is a Sawzall for demolition. Although cordless tools have come a long way recently, I still use a corded Sawzall for demolition because it's incredibly powerful. It has a quick-release lever on the side, allowing you to change blades easily. It can cut through almost anything, and the blade can be set in a vertical or horizontal position to help with the cutting. You will be surprised at how often you need this tool for home renovation. Shop around for a Sawzall.
Custom HTML/CSS/JAVASCRIPT
Circular Saw:
The circular saw is another power tool that you need in your home renovation arsenal. It's a versatile tool that can cut through wood, plastic, and metal with ease. You can adjust the depth of the cut to match the thickness of the material you are cutting. With a circular saw, you can make long, straight cuts or cut curves and angles with ease. You can buy blades that are specialized for different types of materials, and they are relatively inexpensive. Shop around for a circular saw.
Custom HTML/CSS/JAVASCRIPT
Jigsaw:
A jigsaw is a handheld tool that can make curved cuts in wood, metal, and plastic. It's an excellent tool for making intricate cuts, and you can even use it to make decorative patterns. The blades are thin and narrow, making it easy to make precise cuts in any material. With a jigsaw, you can cut out shapes for furniture, create curves on baseboards, and even make custom picture frames. Shop around for a jig saw.
Custom HTML/CSS/JAVASCRIPT
Nail Gun:
Finally, a nail gun is a must-have for any home renovation project. It's a powerful tool that can drive nails into wood or other materials quickly and efficiently. With a nail gun, you can save time and energy by not having to hammer in each nail manually. It's a game-changer for anyone who has ever had to do a lot of nailing. You can adjust the depth of the nail, and you don't have to worry about bending or breaking nails anymore. Shop around for a nail gun.
Custom HTML/CSS/JAVASCRIPT
BONUS TOOLS:
Wet/Dry Vac:
Last but not least is the wet/dry vac. This tool is essential for keeping your work area clean and free of debris. It can also be used to clean up spills and leaks, making it a valuable addition to your home renovation toolkit. Shop around for a wet/dry vac.
Custom HTML/CSS/JAVASCRIPT
In conclusion, owning these six power tools can help you tackle just about any home renovation project with ease and efficiency. Not only can they save you time and money, but they can also make your DIY projects more enjoyable and satisfying. So, invest in these essential power tools today and start renovating like a pro! Shop around for these tools now.